The wine-farm Cà Neuva of Abbona Sergio is a family-run business, established to meet the requirements of anyone who loves wine.
The farm is located in one of the most charming places of the Langhe: Dogliani.
It stretches for 10 hectares where there are the vineyards, the wine-cellar, the office, the tasting-corner and the house.
Outside the house, there is a wide colonial space, surrounded by a striking landscape of beautiful hills and vineyards. The Abbona family can welcome anyone who wants to visit the cellar, the vineyards and of course taste the wines. We have no parking problems (coaches, vans etc.).
The Farm
Cà Neuva started its business in 1924 but since the end of 19th century the Abbonas have been winegrowers, handing on from father to son the passion and love for this work. This wine-farm blends tradition and technology both in the vinification and in the cultivation of vines, in order to obtain elegant, harmonic and genuine products.
Our Wines
You can try our seven types of wine along with local cold cuts and cheeses; including a visit to the wine-cellar with an explanation regarding the wine-making process and product transformation and walks among our estate vineyards adjacent to the winery. You can also arrange to work with us in the vineyard (winter pruning, green pruning, harvesting, …).
We're located in Dogliani, in the heart of the Langhe, in a small town situated roughly 20 minutes by car from Alba, Mondovì, Cherasco and Bra; lovely towns rich in history and tradition. Our farmstead is in the Borgata Santa Lucia, one of the most pleasant in the area, so much so that it was home to famous people such as the President of the Italian Republic, Luigi Einaudi.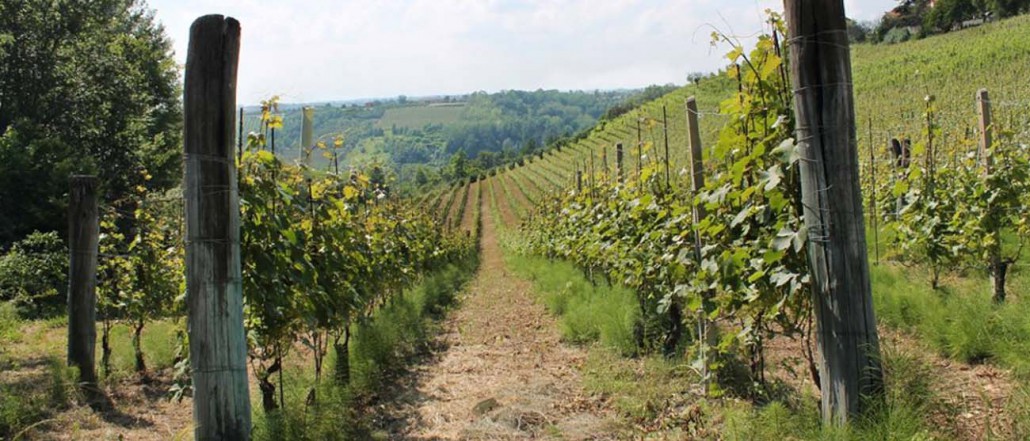 Website: caneuva.com
Telephone:  +39017370668
Town: Dogliani
Address: Frazione Santa Lucia, 36 – 12063
Number of bottles: –
Vines: Barolo DOCG, Dogliani DOCG, Dogliani DOC, Dogliani Superiore DOCG, Langhe Nebbiolo DOC, Piemonte Barbera DOC, Roero Arneis DOCG
Hectares Planted: 12
Vineyards: –
Proprio un bel Dolcetto di Dogliani, gustoso e senza certe pesantezze che certe volte identificano questo vino. Cà Neuva è una piccola azienda (circa 10 ettari) che produce vini molto tipici e ben fatti, come il 'L Sambu '06: un fruttato molto intenso di frutti neri si apre al palato pieno, cremoso, ma allo stesso tempo snello, scorrebole con tannini ben registrati e una coerenza che ci accompagna fino al finale succoso e teso.
La cantina di vinificazione si trova nella frazione Santa Lucia, proprio al centro dei vigneti di proprietà che si estentono per più di 10 ettari in una sorta di anfiteatro che guarda il centro di Dogliani. Il vitigno principe di quest' azienda è il dolcetto e da esso gli Abbona ottengono tre selezioni. Il nuovo Dogliani docg, il Dolcetto della selezione Cà Neuva e quello più austero denominato 'L Sambù.
Questo Magnifico Dolcetto di Dogliani ha una veste rubino intenso vivacizzata da sfumature violacee. Il Naso è pulitissimo, si colgono nitidi aromi di lampone e violetta, la bocca è ricca e piena, con un finale lungo impreziosito da tannini di buona finezza. Un vino di facile beva e versatile negli abbinamenti a tavola.
Dolcetto di Dogliani Doc 1985. Prodotto con uve dolcetto della località Cà Neuva di Santa Lucia da Celso Abbona e figlio. Vino di salda beva, promette di andare in elevazione ben oltre il 1990. Consigliato, servito a 16-18 gradi sulle carni bianche e rosse.
L'azienda consta di 12 ettari vitati, la famiglia Abbona Celso vi produce Dolcetto e Arneis fin dal 1924. Buona la proposta enologica di Cà Neuva, che al tasting offre tre rossi di classe. Polposo e ben tondo il frutto scuro del dogliani 200, tocca fragrante la ciliegia carnosa del Dolcetto di Dogliani 2007, di massiva e persistente mentosità il migliore, il Dolcetto di Dogliani 'L S ambu 2006, vino dal potenziale evolutivo alto.
Dolcetto di Dogliani 'L Sambù 2006: 83/100 Dolcetto di Dogliani 2007: 83/100 Dogliani 2006: 82/100
Il Dolcetto base della cantina di Sergio Abbona si presenta all'esame visivo di colore rosso rubino tendente al granata; all'olfatto evidenzia sentori di fieno e gelatina di frutta, in un quadro d'insieme di buona eleganza.All'esame gustativo un'acidità un pò esuberante non scalfisce più di tanto un impianto di sostanza e di apprezzabile armonia.